MOVEMENT X - Modern Cirkus & Performing Arts
Einaste nysirkusskulen i landet!
Nysirkus
Mange trur at nysirkus berre er for dei spesielt interesserte, men det er også like aktuelt for deg som f.eks. likar parcour, crossfit, stuping, styrketrening, turn eller dans.
Vår erfaring er at elevar som ikkje har drive med dette før, blir like fasinerte og "hekta" som dei som er meir erfarne før dei kjem til Fjordane.
Kombinasjonen av å kjenne velværet med å vere i god fysisk form, oppdage at ein får kroppskontroll og det å lære å meistre ulike sirkusdisiplinar, blir ein stor inspirasjon som ein tek med seg vidare i livet.
Nysirkuslinja på Fjordane er den einaste i Norge der ein kan drive med nysirkus på fulltid eit heilt skuleår - utan eksamen!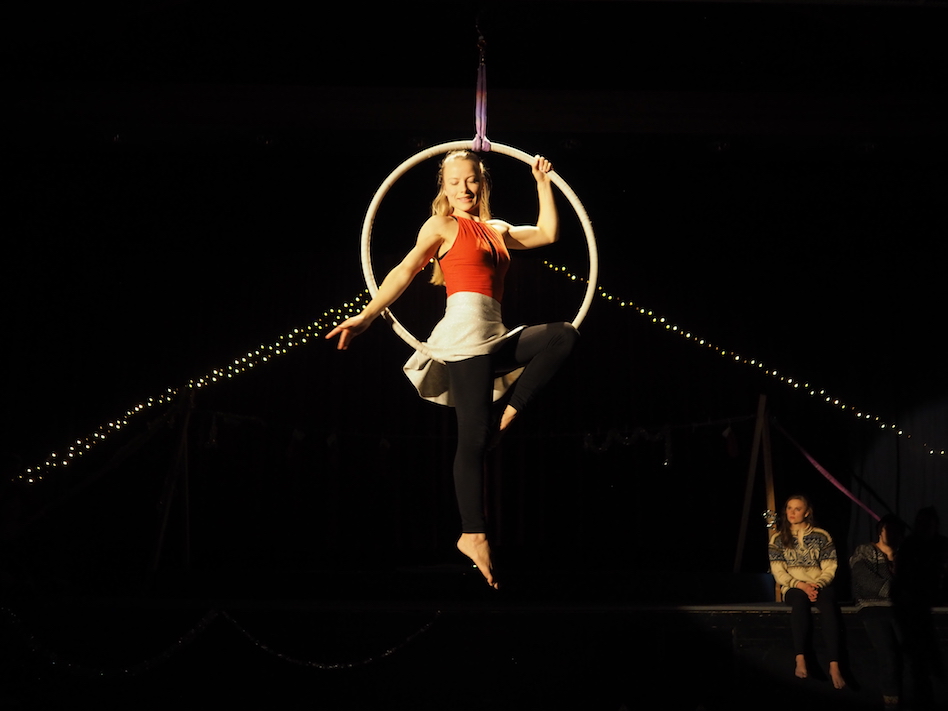 The northernmost circus school in the world!
New Circus
Do you want to find a new way, to discover and learn about yourself by using your body?
"New Circus" is for the ones who love to express themself physically.
If you have a background in physical movement, such as parcour, cross-fit, diving, power training, gymnastics,or dance, Circus could become your new passion.
"New circus" requires motivation, cooperation and dedication.
During this school year you will be challenged in many ways.
You will discover and push yourself, by learning new skills (juggling, aerials, etc.) and develop and strengthen your body and soul.
Later you will learn in a creative process, how to express yourself with your new skill.
Discovering your own physicality by mastering a circus discipline can be a great inspiration for your future life, no matter if you seek a career in performing arts or other fields.
Vi stiller ikkje krav til forkunnskap eller tidlegare erfaring med sirkusdisiplinar, men vi forventar at du er motivert for å lære nye ting og å trene. Du bør vere over 18 år og du vil få undervisning i sirkusfag 3-4 timar kvar dag i veka. Treningslokala er opne heile dagen slik at du kan øve og trene meir på ettermiddagane/ kveldane.
Requirement:
We don't expect any previous experience, but we want you to be motivated in learning new skills and to be willing to challenge yourself.
You will receive up to 4 hours of different circus classes per day during the week.
The training location will be open each day, so you have plenty of opportunity to practice in addition.
På linja vil du få undervisning i disiplinar som:
We offer the following disciplines:
Floor Acrobatics (based on gymnastics)
Pair Acrobatics (hand to hand, pyramids)
Aerial Acrobatics (Trapeze, Aerial Tissue, Aerial Rope, Aerial
Straps, Chinese Pole)
Balance (Tight Wire, Slack Wire, Unicycle, Cyr Wheel, Rola
Bola, Handstand)
Juggling (Balls, Bouncing Balls, Clubs, Passing and Diabolo)
Fire manipulation (Staff, Poi, Torches,etc.)
Trampoline, Teeterboard and Mini-tramp
Strength and Mobility
Theatre/ Drama (Clown and Stage Presence)
Kvart år tilbyr skulen eit spennande studiebesøk ved ein sirkusskule i utlandet som f.eks. DOCH(Sverige), AFUK (København), Chapitô (Portugal) eller Circus University Codarts Circus Arts i Nederland.
Foreign Trip:
Every year the Circus Class will visit another circus school abroad. You will experience exciting workshops a different country and enjoy new impressions.
So far we have been to DOCH (Stockholm), AFUK (Copenhagen), CODARTS (Rotterdam), ACAPA (Tilburg) and CHAPITO (Lisbon).
Springbrett til vidare studier i utlandet:
Springbrett til vidare studier i utlandet:
Linja har etter kvart óg blitt ei unik og populær linje for dei som er bitt av sirkusbasillen. Kvart år er det nokre elevar som brukar året på Fjordane som springbrett til vidare studier i utlandet og ein karriere som profesjonell internasjonal sirkusartist.
A launching pad for the future circus career:
The New Circus course has become a unique and popular line for those who got "infected by the circus virus". There are some students who spend the year at Fjordane as an opportunity for further studies abroad and to start their career as an international professional circus artist.
Questions about the circus course:
Bruk kontaktskjema eller ring oss på 57889880 / Contact sheet or call us +47 57889880
Linkar til nokre få, av mange, tidlegare elevar som jobbar med sirkus / Links to former students who are now professionals: